07.26.2014
Matt Barone (@MBarone)
And there's no better source for that kind of comic relief than a purely funny movie. Shit, how about 25 of them? Having scoured through the online film rental website's catalog of watch-now comedies, we've assembled the following list of The 25 Best Comedy Movies Streaming on Netflix Right Now, covering the complete spectrum of cinematic guffaws. If none of these cure those aforementioned real-world stresses, don't fret—we'll be back with a horror companion list next week, though, for humanity's sake, give these a try first. Read more on Complex.
Top 25 Comedies on Netflix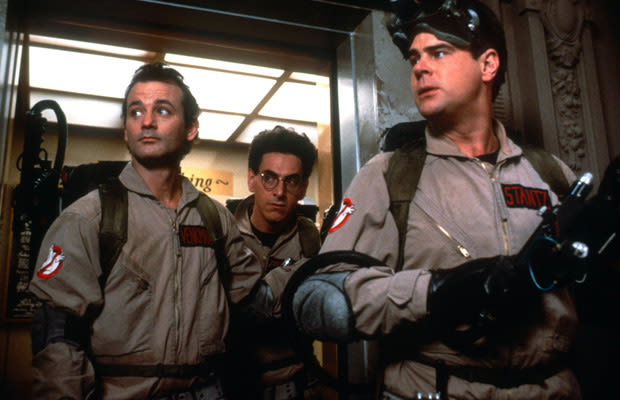 Ghostbusters (1984)
Director: Ivan Reitman
Stars: Bill Murray, Dan Aykroyd, Sigourney Weaver, Harold Ramis, Rick Moranis
Not to get all lecture-y about new comedies and what's wrong with movies, but Ghostbusters still works better than most high-concept comedies. Ghostbusters is the reason we have good stuff like This Is the End, and shitty stuff like The Adventures of Pluto Nash. It's a ludicrous movie with wild special effects and a budget that goes way beyond what's necessary for writing some jokes—but it's grounded by characters and performances. Bill Murray distributing snark like a disgruntled postal worker. Rick Moranis nailing the nerd character forever. Sigourney Weaver cutting these '80s men down to size. Dan Aykroyd with his rubber face and priceless expressions. Motherfucking Ernie Hudson!
If you have it revisited in a while, you owe it to yourself. You ain't afraid of no childhood nostalgia warping your memories of movies to make them seem better than they actually are.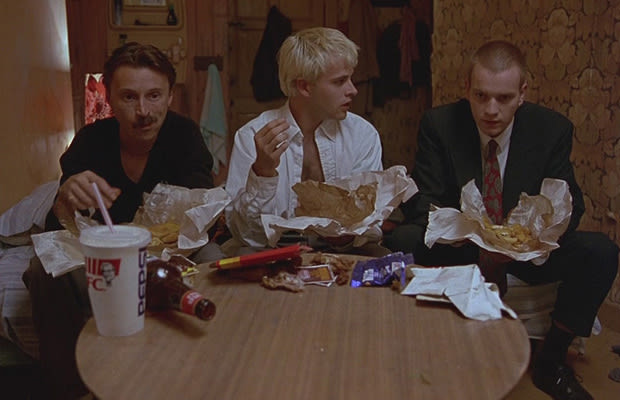 Trainspotting (1996)
Director: Danny Boyle
Stars: Ewan McGregor, Jonny Lee Miller, Robert Carlyle, Ewen Bremner, Kevin McKidd, Kelly Macdonald
Giving our readers the benefit of the doubt here, we're going to assume that none of you have tried any narcotics, beyond, perhaps, your mistress named Mary Jane. What's the best way to stay on the straight and narrow, then? Give Danny Boyle's disturbingly comedicTrainspotting a gander.
The loopy, anything-goes saga of drug users on inexorable downward spirals, it's one of the few movies concerning abuse that genuinely makes the viewer feel as if he or she has snorted, inhaled, or injected. And, based on the reaction Ewan McGregor's character has after diving into a feces-littered toilet to recover his drugs, it's not a fun time.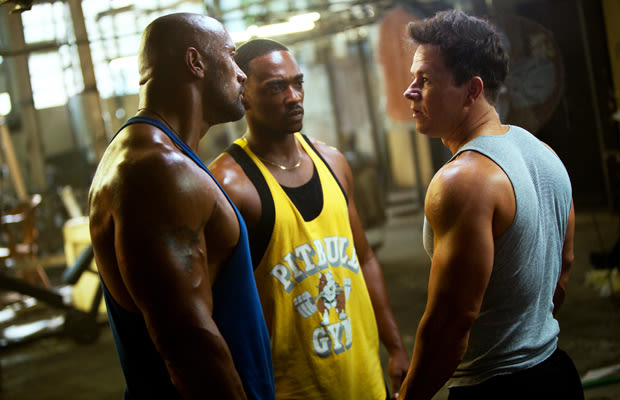 Pain and Gain (2013)
Director: Michael Bay
Stars: Mark Wahlberg, Dwayne Johnson, Anthony Mackie, Tony Shalhoub, Ed Harris
Deservedly, Michael Bay has earned a not-so-enviable reputation as being a shameless purveyor of hollow, glossy CGI orgies that lack character depth or any other byproducts of good screenwriting. Not that he really gives a shit, though, since he has a fourthTransformers movie on deck. But there's definitely a part of Bay that'd love to silence the naysayers with a smaller, less computer-generated hit.
Enter Pain and Gain, a dark, violent, and hilarious action-comedy that harkens back to Bay's Bad Boysmovies and features Mark Wahlberg, Dwayne Johnson, and Anthony Mackie hamming it up as three dim-witted and totally ripped bodybuilders on the run from the Miami Police Department. Sure, it didn't win any awards, but tell us that the proposition of watching Wahlberg and The Rock playing bumbling steroid junkies doesn't sound, at the very least, entertaining. (Spoiler: It's incredibly entertaining.)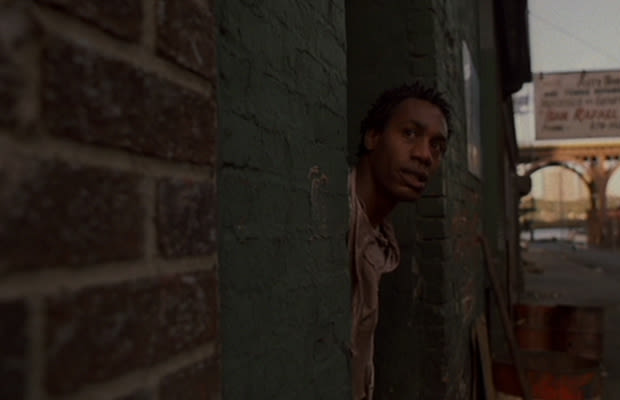 The Brother from Another Planet (1984)
Director: John Sayles
Stars: Joe Morton, Daryl Edwards, Rosanna Carter, Bill Cobbs
The racial themes in the quirky and mellow dramedyThe Brother from Another Planet aren't used by writer-director Sayles to beats viewers over their heads; in other words, he's no Spike Lee.
Joe Morton gives a nicely controlled performance as the titular brother, an alien who climbs out of a cheap-looking spaceship, walks into Harlem and must blend into society despite the fact that he can't talk. Made on a shoestring budget, the indie Brother forgoes elaborate special effects in favor of heavy dialogue and simplistic character development; in that regard, it's about as unconventional a sci-fi film as one could imagine.
Sayles (who previously co-wrote the 1981 cult horror classic The Howling) finds the perfect balance between social commentary and fish-out-of-water humor, givingThe Brother from Another Planet a uniquely unassuming vibe. With all due respect to our dude Meteor Man, Morton's The Brother is our favorite African American movie character with links to outer space.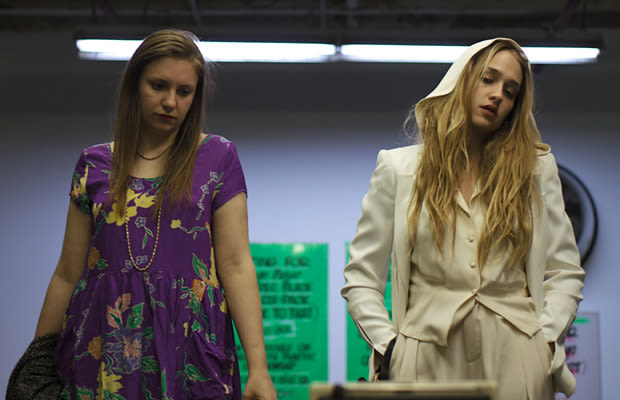 Tiny Furniture (2010)
Director: Lena Dunham
Stars: Lena Dunham, Laurie Simmons, Grace Dunham, Jemima Kirke
In April, the name Lena Dunham became a household thing on the strength of the upstart funny-woman's new HBO series Girls, produced by the all-powerful Judd Apatow (The 40-Year-Old Virgin, Knocked Up). If you didn't before she hit it big, now is the time to catch up with the self-made project that caught the industry's attention:Tiny Furniture, a quirky, dryly comical look at the everyday setbacks a fresh-in-the-real-world college graduate (Dunham) experiences on her bumpy road through adulthood.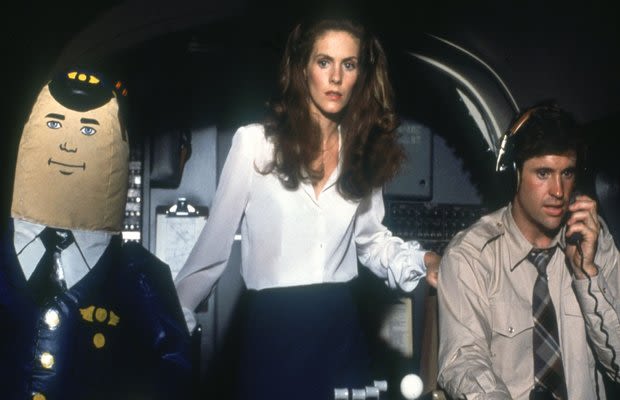 Airplane! (1980)
Director: Jim Abrahams, David Zucker, and Jerry Zucker
Stars: Robert Hays, Julie Hagerty, Leslie Nielsen, Robert Stack, Lloyd Bridges
The idea to make Airplane!, the disaster film parody classic, came to mind when the directors were researching commercials to create spoofs. Instead, they accidentally taped the way less popular and mediocre airplane drama Zero Hour!, which they later called "the serious version of Airplane!"
This slapstick comedy tells the story of an ex-pilot with a fear of flying (Robert Hays) that tries to win his flight attendant girl friend (Julie Hagerty) back while on a flight from L.A. to Chicago. As if Hays' phobia isn't enough, everyone on the plane, including the pilots, contracts food poisoning from the fish dinner. The team has to resort to their "Otto" pilot, a life-size inflatable pilot doll to fly the plane. The hilarity ensues.
Airplane! reminds audiences that logic is not a priority when it comes to making people laugh.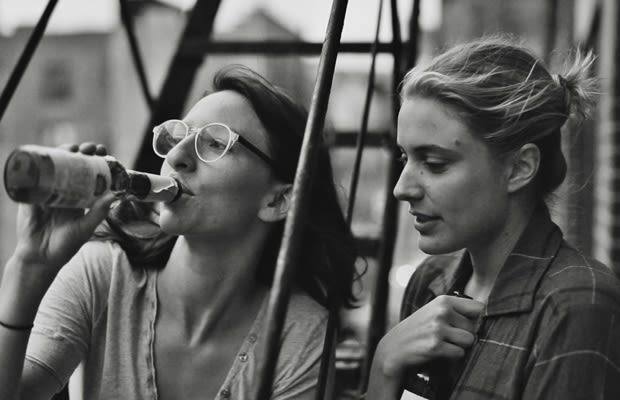 Frances Ha (2013)
Director: Noah Baumbach
Stars: Greta Gerwig, Mickey Sumner, Adam Driver, Michael Zegen, Grace Gummer, Patrick Heusinger
Noah Baumbach begins many of his movies with a line of dialogue that acts as a kind of summary or central thematic statement. The first words spoken in his divorce drama The Squid and the Whale, for instance, are, "Mom and me versus you and Dad."
Frances Ha, his funny valentine to his girlfriend, Greta Gerwig, opens with a long montage of Frances' life in New York. She's a twenty-something with aspirations to dance, and she lives with her best friend, Sophie (Mickey Sumner), who works in publishing. In the montage, Frances reads aloud to Sophie about attacks on sincerity in art. Those of you who simply hate the social milieu of middle-class white Brooklynites who dream of doing something creative, this is your cue to leave.
Like a great episode of Girls (minus the body art), Frances Ha examines friendship between young women in New York, 2013. Baumbach cares for Gerwig, and it's clear in the film. Though the characters around Frances make comments that skewer themselves and their specific sub-culture (shout out to everyone working on a Gremlins 3 screenplay), her own faults are celebrated. Frances is socially awkward and self-sabotaging, and she is lovely and loved by the film's camera and screenplay (which Gerwig wrote with Baumbach). In the hands of other filmmakers and stars, this could become numbing satire or something equally lifeless. Instead, it's exuberant, a pristine black-and-white snapshot of love and the city. —RS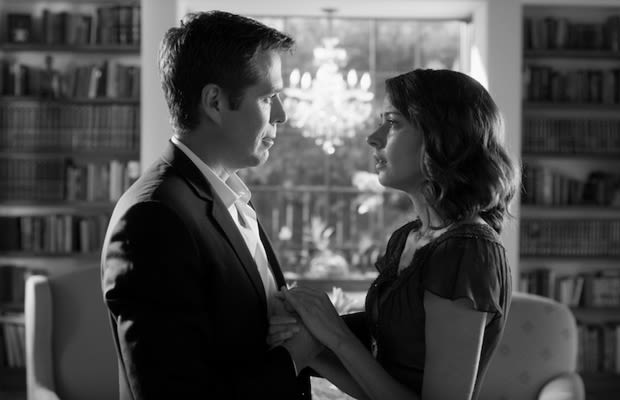 Much Ado About Nothing (2013)
Director: Joss Whedon
Stars: Amy Acker, Alexis Denisof, Nathan Fillion, Fran Kranz, Jillian Morgese, Sean Maher, Reed Diamond, Clark Gregg, Tom Lenk
Making Hollywood blockbusters is really hard work—it'd be understandable if the guy who directed last year's gargantuan smash The Avengers opted to take some time off before shooting his next project. That's not how Joss Whedon works, though.
Rather than sit back and either field offers for more studio fare or go off the grid, Whedon took the less obvious step: He invited a bunch of his best actor-friends over to his Los Angeles house for 12 days and shot a black-and-white, loose, and breezy adaptation of William Shakespeare's classic play Much Ado About Nothing. And unlike past examples of famous people getting together for some paid playtime (see: Couples Retreat, Grown Ups), Whedon's lo-fi experiment is as much fun to watch as it must've been to produce.
Keeping Shakespeare's dialogue untouched, Whedon relocates the story to modern-day L.A., proving the timelessness of the bard's writing without ignoring the silliness of what he and his cast are doing. Props that were unavailable to Shakespeare during his time, like a Barbie's Playhouse, are used for clever comedic effect, and several of the players—particularly Whedon regular Nathan Fillion as the bumbling detective Dogberry—play up their self-aware sense of humor just enough to conjure laughter but not distract from the mission at hand. That mission, of course, is to tell a love story, a central one—between the initially contentious Benedick (Alexis Denisof) and Beatrice (Amy Acker)—that's surrounded by peripheral romances.
Whedon's Much Ado About Nothing is the ultimate take-it-or-leave-it property: It doesn't need to exist, frankly, and he and his cohorts don't modernize the material so much that Shakespeare's seminal tale feels entirely fresh. But there's nothing wrong with a harmless and spirited homage to a storyteller of Sir William's caliber, especially when it's delivered with the pleasantries and charm seen here. Not all movies need to be The Avengers.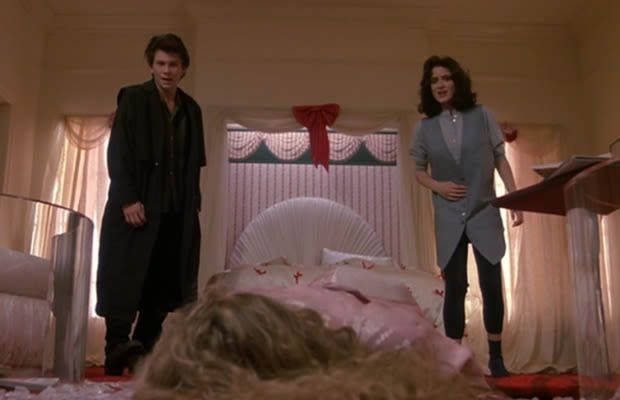 Heathers (1988)
Director: Michael Lehmann
Stars: Winona Ryder, Christian Slater, Shannen Doherty, Lisanne Falk, Kim Walker
On paper, Heathers isn't all that funny. Set in an everyday high school, Winona Ryder's breakout film hinges on a clique of hateful, stuck-up girls, bullies, and teenage suicide. In all, it's one of the darkest high school movies ever made, and a big part of that mystique is credited to screenwriter Daniel Waters' crackerjack of a script, which flip-flops from vicious black comedy to emotionally gruesome moments with unwavering poise.
Ryder plays the only member of an all-girl crew of social terrorists with a conscience; after watching her cohorts torment her undeserving fellow classmates, Ryder's character and her derelict boyfriend (Christian Slater) plot to dethrone the queens of mean. Soon, one of the girls dies, along with a pair of football stars, whose corpses are positioned in a homosexually suggestive manner, spawning the memorable line, "I love my dead, gay son!"
Heathers veers into some rather twisted and bleak territories, yet, somehow, it's consistently amusing. In other words, it's the quintessential dark comedy.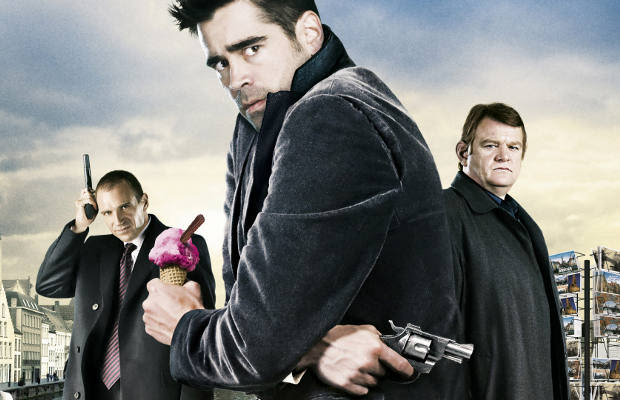 In Bruges (2008)
Director: Martin McDonagh
Stars: Colin Farrell, Brendan Gleeson, Ralph Fiennes
In Bruges first hit the festival circuit in 2008 with very little hype surrounding it, but by the time the end credits rolled, it was evident that acclaimed playwright turned filmmaker Martin McDonagh had created a comedy destined to be a cult classic. In the film, Colin Farrell and Brendan Gleason star as two Irish hitmen forced into hiding in the city of Bruges after Farrell's character accidentally kills a young boy during a hit gone wrong.
From there, the two hired guns ruminate on the nature of life and guilt as they plunge into the eccentric underbelly of the quirky city. This thoughtful morality tale offers darkly comedic flourishes, including a drug-addicted dwarf who gets into a brawl with Farrell and a rabid performance by Ralph Fiennes, who plays the boss of our two heroes.
All of these elements coalesce by the end to form a wholly unique comedy and masterfully written piece of art.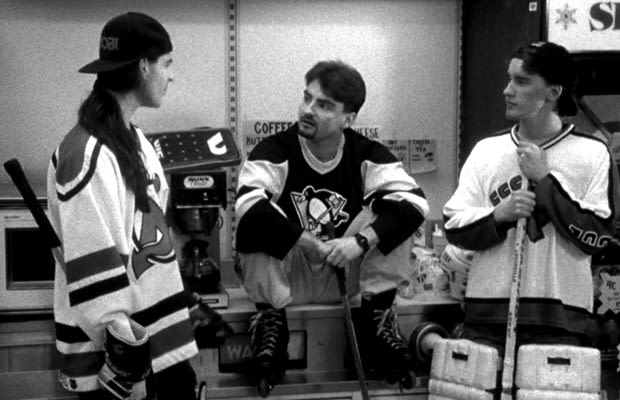 Clerks (1994)
Director: Kevin Smith
Actors: Brian O'Halloran, Jeff Anderson, Marilyn Ghiglotti, Jason Mewes, Kevin Smith
Made for only $230,000, Kevin Smith's lo-fi debut Clerksrevolutionized independent comedy with its black-and-white home-video quality and nonstop dialogue. Showing the lives of two best friends from New Jersey (one a convenience store clerk and the other a video-store worker), Smith's Generation X classic operates on an incessant amount of profanity, geeky pop-culture references, and an overall slacker's mentality.
Clerks has earned its legendary stripes by showing that anyone with a camera and even a shred of imagination can make a cherished movie—as long as you're funny. A dry Clerks, full of slackers talking endlessly withoutSmith's vibrant writing, sounds like a cure for insomnia.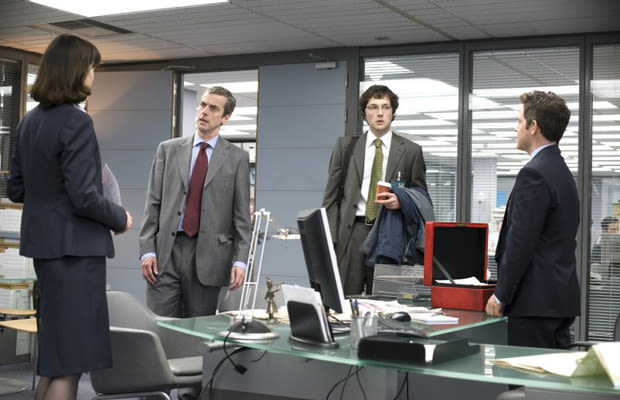 In the Loop (2009)
Director: Armando Iannucci
Stars: Tom Hollander, James Gandolfini, David Rasche, Mimi Kennedy, Chris Addison, Peter Capaldi, Steve Coogan, Anna Chlumsky, Gina McKee, Paul Higgins
If all politicians, military officials, and political reporters were as funny as the men and woman in Armando Iannucci's hilarious satire In The Loop, we'd probably be more willing to root for undesirables like Newt Gingrich and Mitt Romney.
They're not, of course, but who could really expect them to be? Hardly many popular comedy screenwriters themselves are as humorously on-point as Scottish comedian/writer/filmmaker Iannucci, whose spoofing of pre-war turmoil ranks as one of the best laugh-fests of the last decade, although you'd have to be a die-hard cinephile to know as much.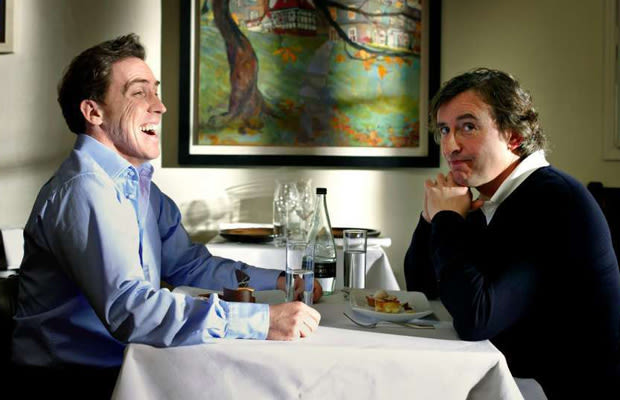 The Trip (2010)
Director: Michael Winterbottom
Stars: Steve Coogan, Rob Brydon
The Trip is literally about two guys traversing the English countryside, sampling the food in various upscale restaurants, and gabbing on and on about random, seemingly inconsequential topics. You're probably thinking, "I'd rather watch paint dry," yet director Michael Winterbottom's happily simplistic comedy is anything but mundane. On the contrary, it's an absolute blast, thanks to the consistently witty and amusing banter between the perfectly matched Steve Coogan (Tropic Thunder, The Other Guys) and Rob Brydon.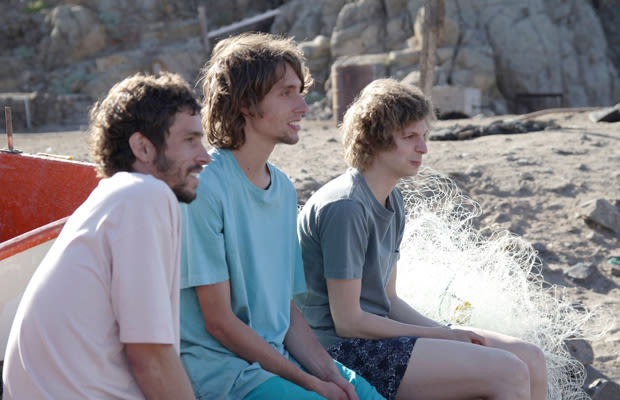 Crystal Fairy (2013)
Director: Sebastián Silva
Stars: Michael Cera, Gaby Hoffman, Agustin Silva, Jose Miguel Silva
2013 was Michael Cera's comeback year. First, with the return of Arrested Development; then with Crystal Fairy. Alo-fi, oddball indie comedy, Crystal Fairy, depicts the misadventures of a mean-spirited American (Cera) vacationing in Chile, befriending a free-spirited female (Gaby Hoffman), and indulging a hallucinogen called the "San Pedro cactus." Trust, it's way better than Year One.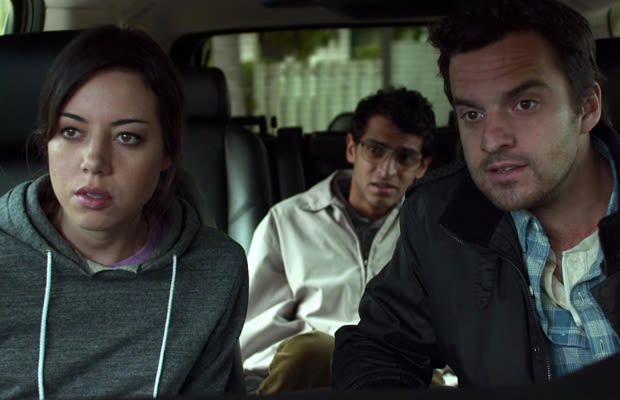 Safety Not Guaranteed (2012)
Director: Colin Trevorrow
Stars: Aubrey Plaza, Mark Duplass, Jake M. Johnson, Karl Soni
Safety Not Guaranteed is almost too good to be true: It's a romantic comedy that's both hilarious and genuinely touching. So it figures that its recent limited release has rendered it all but overlooked by mainstream audiences, which is a real pity, because director Colin Trevorrow's nimble comedy gives independent cinema a great, singular name.
Beautiful and quirky Aubrey Plaza, proving that she's more than the cold, awkward character she so brilliantly plays on NBC's Parks and Recreation, is a delight as one of two magazine interns who, along with their chaperone/arrogant reporter (New Girl's Jake M. Johnson), investigate a newspaper ad from a recluse (The League's Mark Duplass) who's looking for a shotgun driver with whom to time travel. Oddly enough, it's based on an actual ad, too.
With uniformly convincing performances, consistently spot-on humor, and a ballsy climax that's unexpectedly poignant, Safety Not Guaranteed is a heartfelt little picture that dishes out laughs and butterflies in equal measure.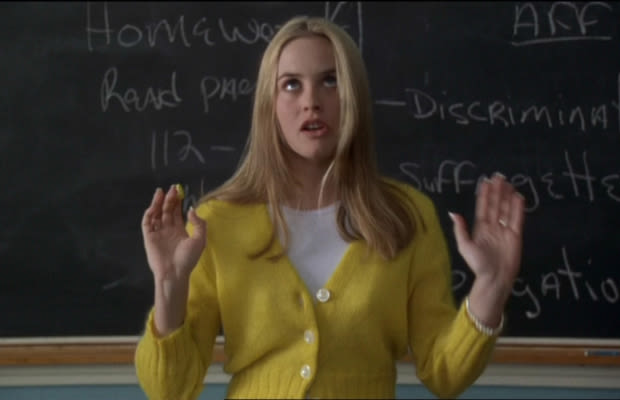 Clueless (1995)
Director: Amy Heckerling
Stars: Alicia Silverstone, Stacey Dash, Donald Faison, Breckin Meyer, Paul Rudd, Jeremy Sisto, Justin Walker, Dan Hedaya, Elisa Donovan
It's true, Amy Heckerling's 1995 hit about Beverly Hills do-gooder Cher Horowitz (Alicia Silverstone at her finest) and her entourage of privileged one-percenters isn't necessarily one you want to broadcast fanship of to all of your friends, but if you haven't caught this flick at least once in the million times it's been rerun on basic cable, you owe it to yourself to check out this edgy-for-its-time classic, pronto.
In addition to bold fashion and catchy lingo for your lady, there's Stacey Dash, endless quality one-liners, and the added bonus of a pre-Apatow Paul Rudd (and a plotline involving some weird stepbrotherly love) for you. Who doesn't win here?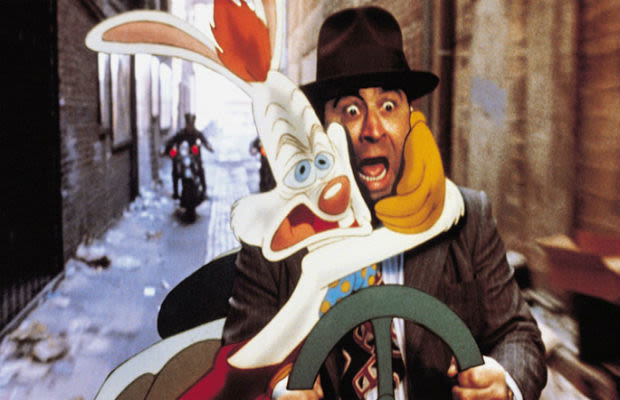 Who Framed Roger Rabbit(1988)
Director: Robert Zemeckis
Stars: Bob Hoskins, Christopher Lloyd, Joanna Cassidy
Give a round of applause to Who Framed Roger Rabbit. The film introduced us to some heavy shit—like being so sexually attracted to a cartoon character, Jessica Rabbit, while simultaneously adoring her as a feminist icon. Hear us out. She's not bad, she's just drawn that way. She's eye candy for her male artist and audience, through no wish of her own, and she's fully aware of her role as a sex symbol, but she also knows she's worth more than that. Seriously, check out this movie and reevaluate her character. The whole film is about a cartoon rabbit thinking Jessica is cheating on him. But legit, she's a heroine who loves her comedic honey bunny.
Roger Rabbit also introduced us to our worst fear, Judge Doom and dramatic melting cartoons. Honestly, is this a kids movie? Not to mention, it's amusing blend of animation and live action paved the way for other beloved flicks, namely, Space Jam.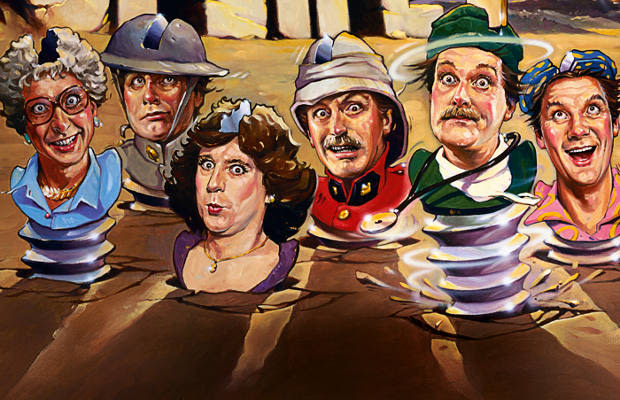 Monty Python's The Meaning of Life (1983)
Director: Terry Jones
Stars: Graham Chapman, John Cleese, Terry Gilliam, Eric Idle, Terry Jones, and Michael Palin
Monty Python's final film, The Meaning of Life, returned to the troupe's sketch-comedy roots, eschewing the feature length plots of Life of Brian and The Holy Grail. The result is a big-screen send-off that reminds viewers why the group became so iconic in the first place.
Starring Python regulars Graham Chapman, John Cleese, Terry Gilliam, Eric Idle, Terry Jones, and Michael Palin, the segments explore the different stages of life through the twisted lens of the Pythons. The group's sardonic musical numbers have always been a tradition, but Meaning of Life put even more topspin on the twisted show tunes with classics like "Every Sperm is Sacred" and "The Galaxy Song."
Other highlights include a sketch about death where a man is chased off a cliff by a gang of nude women, and a live sex-education demonstration by a smutty professor and his exhibitionist wife.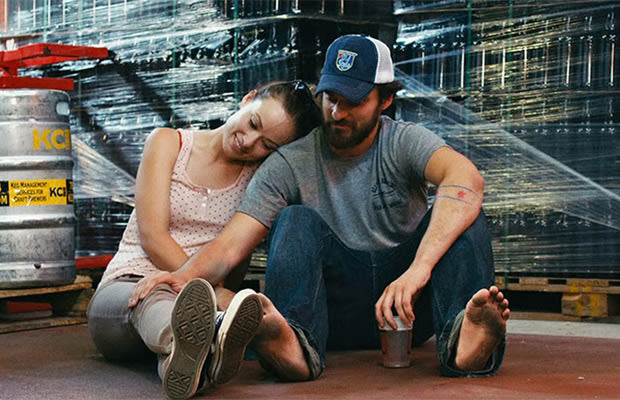 Drinking Buddies (2013)
Director: Joe Swanberg
Stars: Olivia Wilde, Anna Kendrick, Jake Johnson, Ron Livingston, Ti West
Fans of tradition will hate Drinking Buddies. If you go into this expecting a Shop Around the Corner-type story, then sorry 'bout it, you're shit outta luck. Sure, the IMDB synopsis mentions that the film is about a couple of craft brewery co-workers (Olivia Wilde and Jake Johnson) who flirt and clearly have more chemistry than the people they're actually dating (Ron Livingston and Anna Kendrick, respectively). But given this, know that Drinking Buddies doesn't follow the tried and true beat of a romcom, which is something you'd expect if you're familiar with director Joe Swanberg's work.
Considering all the lines are entirely improvised by the cast (within a story outline, provided by Swanberg), the nuanced portrayal of modern relationships in the movie comes from a very real place. It's a reminder that what's obvious and what's right in a fairytale land doesn't matter because real life isn't that cut and dry. Real life, as examined in Drinking Buddies, is essentially a compilation of lies and excuses we tell ourselves to make the day easier. Now who's up for a beer?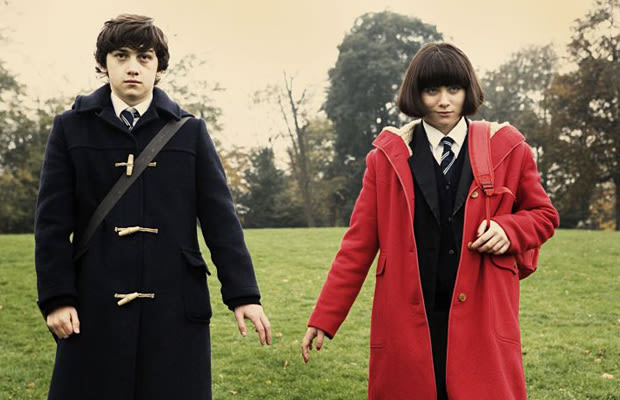 Submarine (2011)
Director: Richard Ayoade
Stars: Craig Roberts, Yasmin Paige, Noah Taylor, Sally Hawkins, Paddy Considine, Gemma Chan, Ben Stiller
Submarine is the best Wes Anderson movie that Anderson himself didn't make. The director here is British comedian turned filmmaker Richard Ayoade, whose quirky instincts lend a feeling of anti-Hollywood daringness to Submarine, a teen comedy for open-minded viewers.
Craig Roberts, a talented young actor, endlessly charms as a kid juggling his desire to save his feuding parents' marriage with an obsession to lose his sexual V-card. Refreshingly, Ayoade doesn't telegraph his punch lines or sight gags, nor does he feel the need to play with anySuperbad-like raunchiness; Submarine, in all its unique elegance, remains bravely deadpan throughout.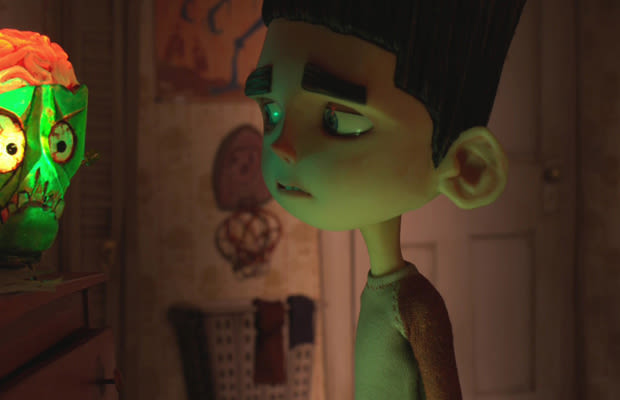 ParaNorman (2012)
Directors: Sam Fell and Chris Butler
Stars: Kodi Smit-McPhee, Anna Kendrick, Christopher Mintz-Plasse, Casey Affleck, John Goodman, Tucker Albrizzi, Leslie Mann, Jeff Garlin, Elaine Stritch, Jodelle Ferland, Tempestt Bledsoe, Ariel Winter
Keep the little pre-school-aged kids away from ParaNorman, unless you want to promote night terrors. Though its anti-bullying, wholly positive story (about forgiveness and finding one's purpose in life) is meant to uplift, not petrify, this magnificent achievement in stop-motion animation is decidedly too grown-up for wee lads.
Blame that on filmmakers Chris Butler and Sam Fell's shared affinity for, and readiness to pay homage to, classic horror films. Nightmarish-looking zombies stumble about, corpses are used for sight gags, and the olden days' practice of executing women thought to be witches is the basis for the script's villainous sub-plot. Yeah, ParaNorman is a bit darker than, say, Ice Age.
More importantly, though, it's also stronger in the originality department, striking a delicate balance between adult horror and child-friendly wonder. Also worthy of praise is the fact that its protagonist, the kind-hearted, spirit-seeing Norman (voiced with heartfelt conviction by Let Me In's Kodi Smit-McPhee), is a well-realized, multifaceted triumph of a kiddie character offering something more than aww-shucks naïveté. If not for the little girl at the center of this countdown's top-ranked film, Smit-McPhee's Norman would rank as the summer's most inspiring hero.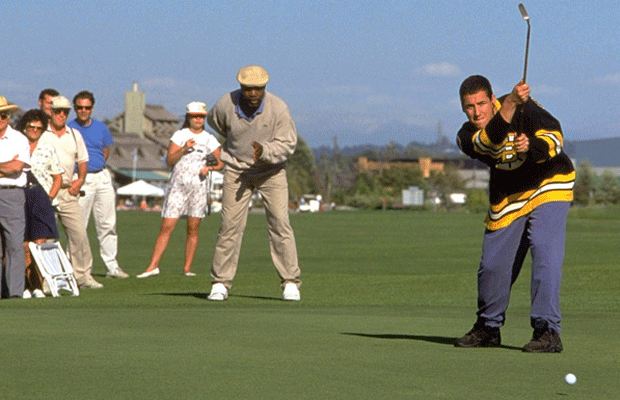 Happy Gilmore (1996)
Director: Dennis Dugan
Stars: Adam Sandler, Christopher McDonald, Julie Bowen, Carl Weathers, Frances Bay
Adam Sandler will go down in history as the patron saint of adolescent humor; Happy Gilmore, his first attempt at sports comedy, is as pubescently targeted as they come, thank God. As the world's most d violent golf player, Sandler controls the green with gut-busting lash-outs ("Kiss my white ass, ball!") and curmudgeonly remarks ("If I saw myself in pants like that, I'd kick my own ass") and (unwisely) picks a fight with Bob Barker. It's not exactly high art, but who gives a shit? This one always sends us to a happy place.