07.30.2014
Matt Barone (@MBarone)
As all passionate and in-the-know horror fans will attest to, it's a task to catch the best new entries into their beloved genre. Aside from the disappointingly unsuccessful, though otherwise superb, The Cabin in the Woods, the year's top scary movies have been relegated to extremely limited releases (meaning, folks outside of major cities like Los Angeles and New York were screwed) and/or Video On-Demand outlets that only certain cable providers offer. Recent horror knockouts like Kill List and The Loved Ones? Nope, far from easily accessible. And it's too bad….. If you're looking for something more diverse, check our our overall list of the Best Movies on Netflix Right Now.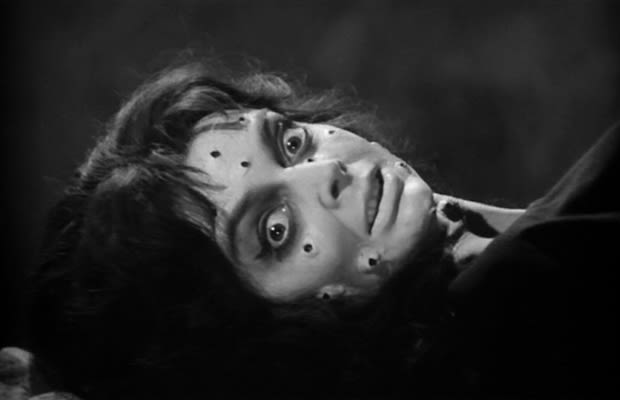 Black Sunday (1960)
Director: Mario Bava
Stars: Barbara Steele, John Richardson, Ivo Garrani, Arturo Dominici
For many the knee-jerk response to the question, "Who's the greatest Italian horror filmmaker of all time?" is, Dario Argento. Of course, that's not a bad call at all. Argento's greatest movies, specifically Suspiria and Deep Red, inarguably rank amongst the genre's best examples of hardcore chills. But Argento himself would probably give you a different answer, one that critics who prefer less theatrical slaughter and more suggestive terror would also supply: Mario Bava.
In addition to laying the groundwork for the American slasher movie, not to mention washing celluloid with eye-popping colors during tense murder sequences, the late Mr. Bava also knew how to deliver a great, old-fashioned tale of the supernatural, his best one being 1960's witchcraft flick Black Sunday.
Shot in black-and-white, it's about gorgeous spell-caster (O.G. scream queen Barbara Steele) who—200 years after she gets a metal mask hammered into her face before being burnt alive—returns to her hometown to wreak spectral, homicidal havoc.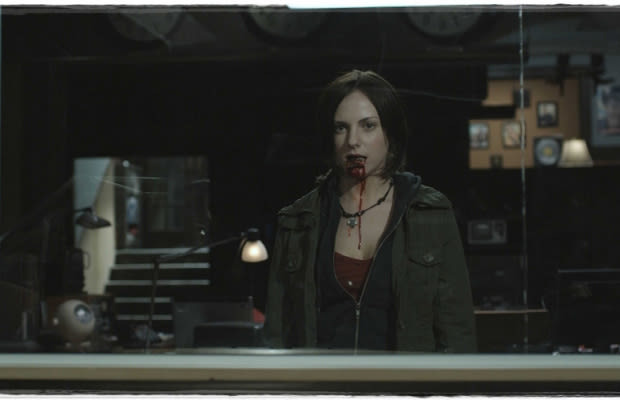 Pontypool (2008)
Director: Bruce McDonald
Stars: Stephen McHattie, Lisa Houle, Georgina Reilly
It's a ballsy concept: Make a zombie movie without showing many actual zombies. In other words, create something that will make anyone who hated on the first half of The Walking Dead's second season feel bad about ever crapping on AMC's slow-building horror series.
When a director has a lead performance as engaging and rich as Stephen McHattie's in Pontypool, however, a mostly walker-free 90-minute exercise can be a fruitful one, and that's definitely the case here. McHattie plays a shock radio jock who gradually covers an undead apocalypse from the comfort of his recording booth. To deliver the expected scenes of nightmarish tension, filmmaker Bruce McDonald relies on the actor's facial reactions to sell moments in which field reporters calling into the station get attacked.
The results, though largely devoid of Z-men and women, are effectively suspenseful.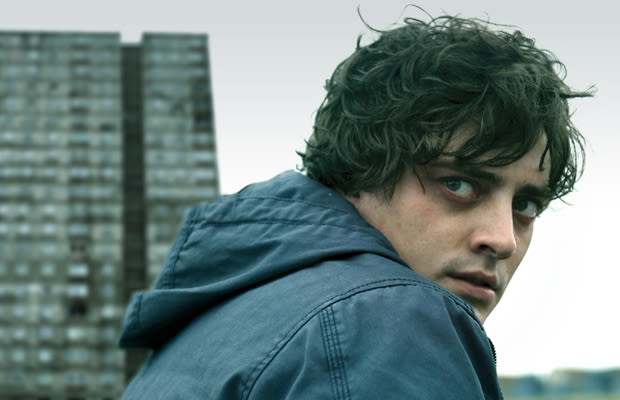 Citadel (2012)
Director: Ciaran Foy
Stars: Aneurin Barnard, James Cosmo, Wunmi Mosaku, Amy Shiels
Like Bram Stoker's legendary Count craves blood, horror fans fiend for original ideas, which is, ultimately, a mostly thankless approach to one's entertainment choices. But every now and then, a little genre flick comes along offers fresh ideas while cleverly tweaking classic tropes; at this year's SXSW Film Festival, that movie is the Irish adrenaline rush called Citadel.
Inspired by his own battles with intense agoraphobia, Irish writer-director Ciaran Foy's taut creepshow centers on Tommy (Aneurin Barnard), an afraid-of-everything, single, widowed father who's been traumatized after an attack by a gang of hoodie-wearing kids; turns out, the youngsters aren't all that young, but, rather, feral, zombie-like ghouls that can only see fear. Which, naturally, sucks for an agoraphobic guy, especially when his infant daughter's been abducted by the hooded villains.
Citadel jumps right into the macabre, showcasing the badass creature-like antagonists right away and never leaving them in the shadows; clearly confident about his self-conceived horror, Foy generates a slew of wicked set-pieces, the best of which turns a public bus into a bloodbath. He's a genre filmmaker to watch.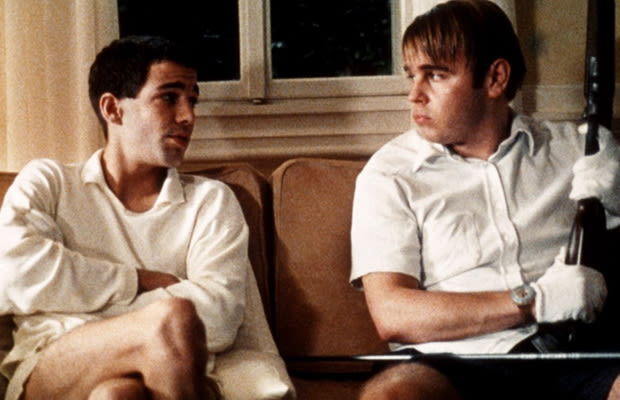 Funny Games (1997)
Director: Michael Haneke
Stars: Susanne Lothar, Ulrich Mühe, Arno Frisch, Frank Giering, Stefan Clapczynski
You can rarely beat an original, and Funny Games is a prime example. Michael Haneke's 2008 U.S. remake is undoubtedly a tough watch, but it's far less scarring than this 1997 original, which presents the exact same series of events yet pierces the senses much more sharply.
For one, there are no recognizable Hollywood stars (i.e., Naomi Watts or Tim Roth) that allow us to acknowledge that Funny Games is only a movie. More importantly, though, the general concept was unique back in '97; take the film's unexpected use of internal rewinding, for example, through which one of the bad guys erases his partner's death, pretty much shitting all over the viewers' hopes for a happy ending.
Like most of his films, Funny Games comes from a truly dark place within Haneke's mind, a section of the brain where his most cynical thoughts lie, and, basically, we're all seen as scum. Folks who'll gladly pay to see people brutally murdered on screen, as long as there's fresh popcorn and overpriced soda on hand.
By the time the fittingly bleak ending of Funny Gamesreaffirms the notion that Haneke is one sick (and clever) fuck, you'll feel quite bad about yourself. Or you'll want to slap Big Mike in the face for subjecting your eyes to such unwavering nihilism. Either way, it will leave a mark.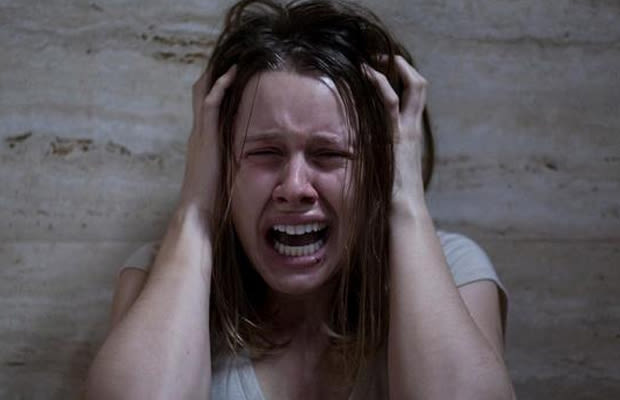 Kidnapped (2011)
Director: Miguel Angel Vivas
Stars:Manuella Velles, Fernando Cayo, Ana Wagener, Xoel Yanez
It's a good thing that Spanish filmmaker Miguel Angel Vivas' home invasion horror/thriller Kidnapped is barely 90 minutes long—one can only withstand so much emotional punishment before hyperventilating. Lean and incredibly mean, Kidnapped is a cinematic endurance test, presenting a run-of-the-mill, Funny Games-like setup with technical prowess and uncompromisingly bleak developments. Vivas shot the film with only 12 single-take sequences, givingKidnapped an in-your-face immediacy that heightens the brutality on display. And, damn, is it brutal.
After a brief prologue in which Vivas' single-take approach stages a guy's run-in with a speeding car as if Vivas himself took a fender off the chest,Kidnapped storms into a night from Lucifer's playground for a husband/wife pair, along with their teenage daughter. Three masked goons break into their new home, tie them up, and attempt to drain the fam of its finances, but, in typical foreign horror fashion, the plan devolves into follies such as a man's face being smashed in, an enthralling split-screen sequence involving a boyfriend kissing a gun's barrel, and one of the darkest, gut-kicking endings in recent memory.
At times, Kidnapped falls victim to Vivas' overzealousness with technique, particularly through a late-game use of split-screen that's more distracting than immersive. But the whole experience is so unrelentingly visceral that the film's downsides are secondary; the viewers' senses are battered in too much to care about any flaws.
Absentia (2011)
Director: Mike Flanagan
Stars: Katie Parker, Courtney Bell, Dave Levine, Justin Gordon, Morgan Peter Brown
Feeling hesitant about using Kickstarter to fund your dream project? Let writer-director Mike Flanagan's excellent indie horror flick Absentia serve as your motivational guide. Largely funded through the crowd-sourcing website, Absentia, reportedly made for only $70,000, is one of the most impressive do-it-yourself films to come around in years, one that deserves a bigger following than it's slowly but surely amassed thus far.
An exercise in dread-fueled mood, rather than an abundance of jump scares and gratuitous bloodshed, Flanagan's tightly constructed creepshow revolves around two sisters living near a seemingly innocuous suburban tunnel, which, as the younger sibling (formidable leading lady Katie Parker) discovers, is the reason why so many people have gone missing lately.
Absentia works on multiple levels: It's based on a fresh, inventive concept; freakout images surface economically with sufficient impact; and the characters, portrayed by a group of gifted unknowns, are all well-developed. Hollywood's flashiest directors could learn a thing or two from Flanagan and his Absentia colleagues.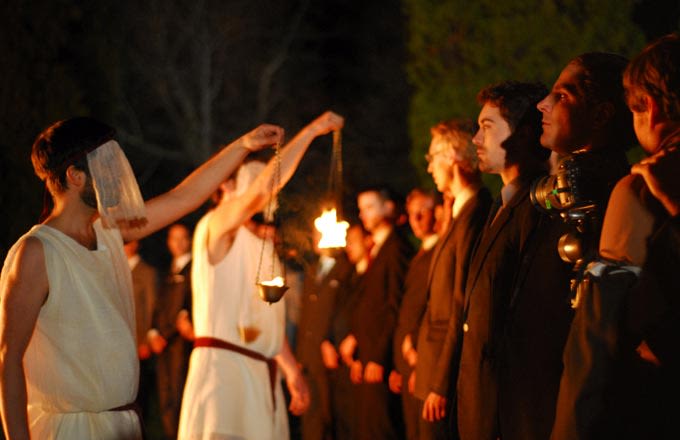 The Conspiracy (2013)
Director: Christopher MacBride
Stars: Aaron Poole, James Gilbert
There's nothing better than when adventurous young filmmakers see an excellent yet tricky idea through to a satisfying end. That's one way to describe the viewing experience of watching Christopher MacBride's first-rateThe Conspiracy, an engrossing faux documentary about a couple of filmmakers descending deeper and deeper into the world occupied by those who nervously believe in the Illuminati, 9/11 conspiracies, and other New World Order paranoias.
MacBride and company intriguingly use real-life theories and sources of investigation, namely The Tarsus Club and the Bohemian Grove rituals, to construct an airtight thriller that starts off as an investigative mystery before a third act where first-person horror takes over. In that final section, The Conspiracy pulls off that always complicated trick known as "the ambiguous ending," leaving viewers with plenty to think about and, depending on your tolerance for bizarro horse-face masks, even more to lose sleep over.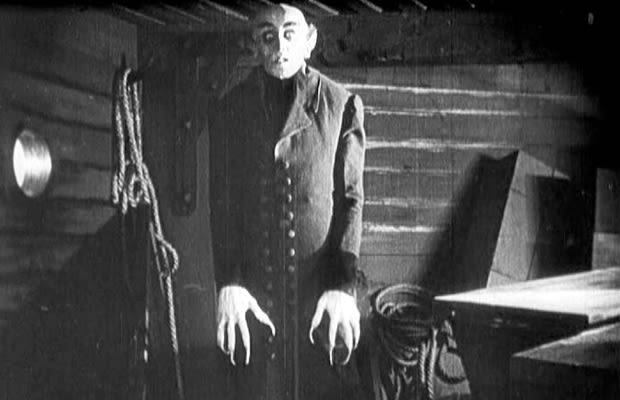 Nosferatu (1922)
Director: F.W. Murnau
Stars: Max Schreck, Gustav von Wangenheim, Greta Schroder, Alexander Granach, Wolfgang Heinz, Ruth Landshoff
Yes, that is a real person you see above. Well, at least we think Max Schreck wasn't actually a creature of the night, though the terrifying German silent flickNosferatu makes quite a case against that notion. A sparse, visually chilling interpretation of Bram Stoker's classic novel Dracula, director F.W. Murnau's nightmare on celluloid benefits endlessly from ultimate method actor Schreck's obsessive dedication to the vampire's look, mannerisms, and overall demeanor. We'd applaud his commitment, but we're afraid that Schreck's ghost will visit us tonight to thank us in person.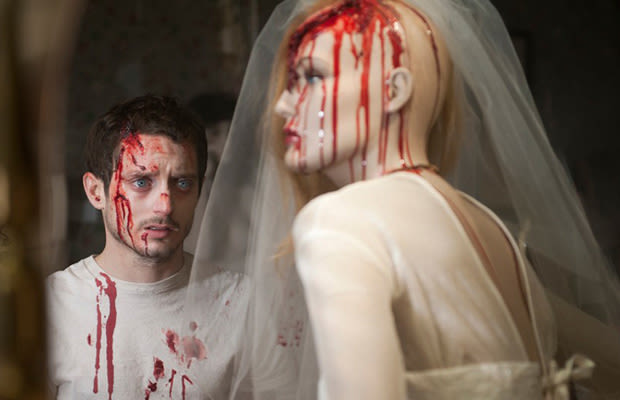 Maniac (2013)
Director: Franck Khalfoun
Stars: Elijah Wood, Nora Arnezeder, Jan Broberg, America Olivo, Liane Balaban, Morgane Slemp, Genevieve Alexandra, Megan Duffy
Maniac shouldn't be as great as it is—it's a serial killer movie starring the pint-sized dude who plays Frodo Baggins, directed by the filmmaker behind the lame 2007 parking garage thriller P2, and, on top of that, it's yet another horror remake. And yet.
With its simultaneously retro and haunting score, impressive use of first-person POV camerawork, and Wood's multi-layered performance as a perverse sociopath, Maniac hits on every possible level. Wood's character, Frank, stalks beautiful young women, murders them, scalps them, and then places their severed head-tops on mannequins…and, through it all, he remains impossibly sympathetic. Maniac isn't a slasher movie, or a monster movie, as much as it's an urban tragedy, one that, mind you, is sadistic and voyeuristic.
For genre fans looking for something special, though, it's also a nasty crowd-pleaser. It's rare to find a new horror film that's an audacious, form-bending exercise in style matched with, not placed over, substance.Maniac is exactly that.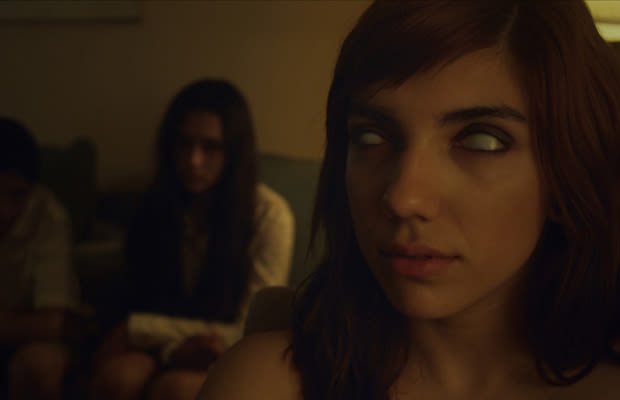 Here Comes the Devil (2013)
Director: Adrián García Bogliano
Stars: Francisco Barreiro, Laura Caro, Alan Martinez, Michele Garcia
Argentina's own Adrián García Bogliano can't be put into any one kind of box within the horror genre. With each new film, the young writer-director totally shifts gears and challenges himself to subvert a common scary movie trope; in Here Comes the Devil, Bogliano tries his hand at the supernatural, telling an unsettling and unpredictable tale about two loving, though romantically fragile, parents struggling to figure out where their two young kids have been acting so oddly after returning from a mysterious cave.
Achieving a steady, overwhelming mood of dread from start to finish, Bogliano's latest twists and turns its way into a lane occupied by the most daring of horror movies, where familiar concepts and images never play out how one might expect and interesting, if not sometimes questionable, behind-the-camera choices show a director who's gamely open to risks.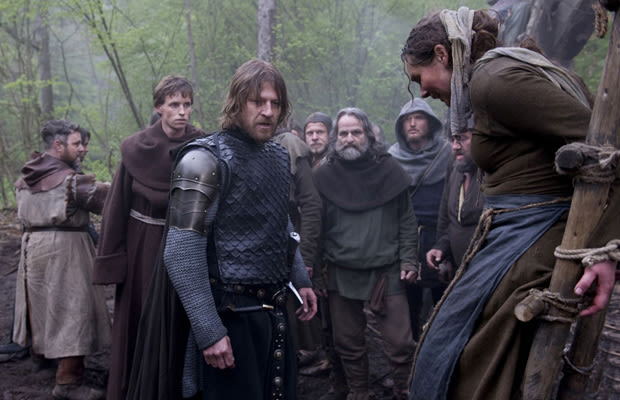 Black Death (2011)
Director: Christopher Smith
Stars:Sean Bean, Eddie Redmayne, Carice van Houten
With each film that he makes, British director Christopher Smith further establishes himself as one of the genre community's most exciting and unpredictable talents. In 2004, he released a particularly nasty piece of work in Creep, a claustrophobic monster movie; two years later, he flipped the slasher movie concept on its head with the horror-comedy Severance, followed in 2009 with the stellar mind-bender Triangle. In 2011, though, Smith unveiled his most impressive work to date: Black Death, a humorless, grim medieval horror film.
What starts out as a road, or better yet "crusade," movie( led by Sean Bean, because, after all, you can't have a sword-and-shield production without him) slowly descends into a gruesome exhibition of God-fearing, religious anarchy. Black Death has a lot to say about the darker side of faith; Smith, along with screenwriter Dario Poloni, ask their questions and vaguely provide answers so that, by the film's downbeat conclusion, you'll be left shell-shocked and eager to debate.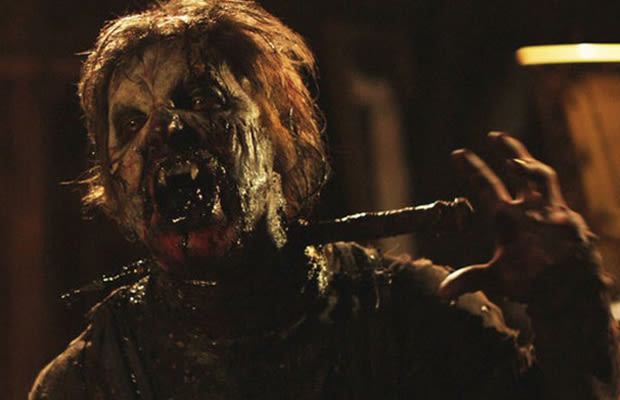 Stake Land (2011)
Director: Jim Mickle
Stars:Nick Damici, Connor Paolo, Kelly McGillis, Danielle Harris, Sean Nelson, Michael Cerveris
The thought of yet another vampire project has lost its gusto. That's what happens when popular culture transforms the once-scary bloodsuckers into both sissy pin-ups who glisten and don't eat meat (see: Twilight) and sex-crazed citizens (see: True Blood). Going against such adversity, writer-director Jim Mickle, along with co-writer and star Nick Damici, charged right into the vamp genre with Stake Land, an independent mish-mash of 28 Days Later…, The Road, and 30 Days Of Night.
But Mickle and Damici figured out how to set their post-Dracula flick apart: by making the vampires unsociable killing machines that are actually secondary to rich character development. Damici, a worthy action hero for the IFC circuit, and fresh-faced Connor Paolo play a pair of grizzled survivors (which includes scream queen Danielle Harris) trudging through a post-apocalyptic wasteland full of supercharged vamps, Satanic cults, and gorgeous cinematography.
Through all of the horror and clever ideas (dropping vampires into a block party from helicopters, specifically), Stake Land remains about its human leads, offering several extended moments of sharp dialogue without any scares. Which, of course, makes the inevitable scares all the more jarringly strong. Unfairly passed over during its brief theatrical run, Stake Land is a godsend for those who'd love to smack Bill Compton and Team Edward members in their respective faces with a Nosferatu DVD pack.
Rosemary's Baby (1976)
Director: Roman Polanski
Stars: Mia Farrow, John Cassavettes, Ruth Gordon, Sidney Blackmer, Maurice Evans, Ralph Bellamy, Charles Grodin, Patsy Kelly
Roman Polanski's adaptation of Ira Levin's novel holds up today because, when it comes to the real source of its scares—the paranoia and isolation big cities breed—nothing has changed.
Mia Farrow plays Rosemary, the bewildered outsider tortured in the private space of her high-rise apartment and pregnancy. John Cassavetes exudes slime as the narcissitic husband and wannabe actor who's seduced into darkness by the sweet (ahem) elderly couple next door.
The second—and best—part of Polanski's Apartment Trilogy builds terror by degrees. Like the frog in the slowly boiling pot of water, you don't know it's too late until you're already doomed. For every city-dweller who's ever wondered about his or her neighbors, there's something terrifying waiting in Rosemary's Baby.
V/H/S (2012)
Directors: Adam Wingard, David Bruckner, Ti West, Joe Swanberg, Glenn McQuaid, Radio Silence
Stars:Calvin Reeder, Lane Hughes, Joe Swanberg, Sophia Takal, Kate Lyn Sheil, Joe Sykes, Hannah Fierman, Mike Donlan, Drew Sawyer, Drew Moerlein, Jason Yachanin, Helen Rogers
The horror anthology is a tricky beast to wrangle. Comprised of multiple short films, all rolled into one something-for-everyone package, the genre omnibus inherently brings with the risk of over-indulgence; if you've got three or four mini-movies in one package, there's a strong chance of one or two inferior segments.
V/H/S, the new found-footage anthology backed by some of horror's most exciting young filmmakers, has five stories, plus a wraparound framing narrative, and not all of them are entirely successful. Touching on various subgenres, the free-spirited and crowd-pleasingV/H/Sfinds the most success in classic tropes, particularly the haunted house (YouTube collective Radio Silence's remarkably insane closing segment, the no-holds barred funhouse ride "10/31/98") and the slasher (Glenn McQuaid's inventive killer-in-the-woods chiller "Tuesday The 17th") conventions.
Far less successful is "Tape 56," the Adam Wingard-directed wraparound that's initially intriguing but goes nowhere. Even in "Tape 56," though, which follows four douchebag pranksters as they break into an empty home and watch old videotapes next to a dead body, V/H/Sexhibits the reckless merriment of daring filmmakers all having a blast, not "working," per se. It's in the ambitious visual devices that freshen up the found-footage conceit (i.e., video-glasses and ghosts seen via laptops' Skype cameras), and it's in the outbursts of extreme gore and exposed female breasts that frequently appear. Flaws or not, V/H/S reminds us how wicked horror can be when it's just about fun.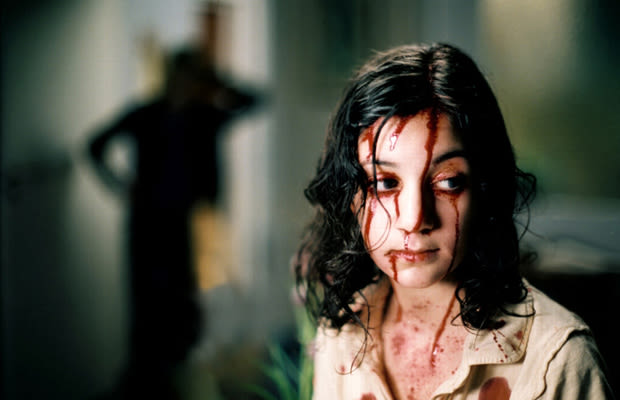 Let the Right One In (2008)
Director: Tomas Alfredson
Stars: Kare Hedebrant, Lina Leandersson, Per Ragnar
Say your girl loves vampires, but her measuring sticks for great bloodsucker characters are Edward Cullen and Bill Compton—first off, we feel your pain. Secondly, it sounds like she's ready for the "Let the Right One In Test."
Antithetical to Twilight and True Blood in every way, Swedish director Tomas Alfredson's slow-burning undead drama handles budding love better than Bella/Edward (even though, yes, the suitors are a little boy and an equally little girl vamp) and is scarier in its quietest moments than True Blood's Eric Northman ever is at his most diabolical.
Show Let The Right One In to wifey and see if she's willing to admit its superiority; if not, try not to hide your disappointment beneath a Taylor Lautner shirt.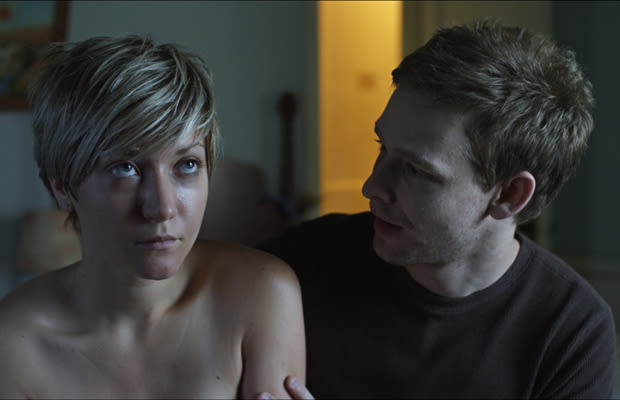 Lovely Molly (2012)
Director: Eduardo Sanchez
Stars: Gretchen Lodge, Johnny Lewis, Alexandra Holden, Ken Arnold
Horror and comedy go hand in hand—the two genres always have, and they always will. Essentially, horror filmmakers and directors concerned with laughs are all trying to accomplish the same thing, and that's to provoke an extreme reaction out viewers.
But there's nothing like a scary movie made with no other purpose than to wholly disturb audiences, without a nary of mirth. That's exactly what Lovely Mollydirector, Eduardo Sanchez, one half of the revolutionaries behind the seminal found-footage hitThe Blair Witch Project, has done with his latest creepfest, which warranted more attention during its brief, very limited May theatrical run.
Newcomer Gretchen Lodge, in a blistering performance, plays Molly, a newlywed who moves into her old childhood cabin with her new husband (Sons of Anarchyalum Johnny Lewis); once she's there, past traumas bring Molly's suppressed inner demons (i.e., drug abuse and fears of a malevolent supernatural force) to the surface.
Blending traditional camerawork with sporadic flips on the intimate, first-person/found-footage approach,Lovely Molly paints an extremely bleak picture of a volatile character. And, to his credit, Sanchez is surgical when it comes to setting an eerie mood (the film's unnerving sound design plays a part in that) and serving up paranormal pay-offs.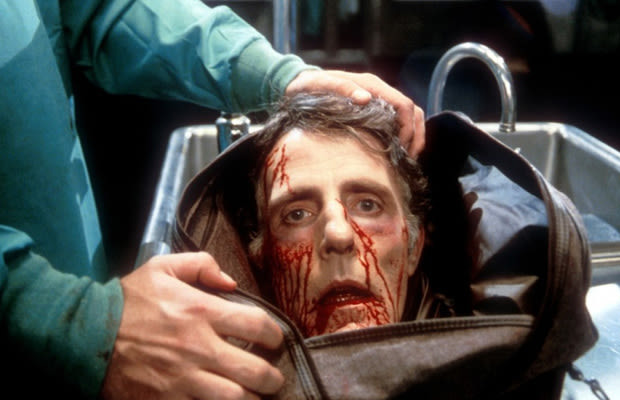 Re-Animator (1985)
Director: Stuart Gordon
Stars: Jeffrey Combs, Bruce Abbott, Barbara Crampton
For fans of the extreme, Stuart Gordon's cult favorite Re-Animator truly has it all: blood, guts, cunnilingus with severed heads, and the darkest of comedy. And, surprisingly, critics such as Roger Ebert and old New York Times writer Janet Maslin loved Gordon's flick back when it premiered in 1982, the latter going so far as to call Re-Animator "ingenious."
Not even stuffy film purists can hate on this totally fucked up take on legendary horror and sci-fi writer H.P. Lovecraft's short story "Herbert West-Reanimator." Jeffrey Combs, who quickly became a genre icon thanks to his role, plays Herbert West, a college student who gets mixed up with unruly medical experiments designed to rejuvenate dead human tissue. They do, but, in good horror fashion, the side effects include zombies, mind control, and dismembered bodies that maintain horny libidos.
Those who complain about the lack of originality in cinema should give Re-Animator a look-if they're not already in the know, they've assuredly never seen anything else like it.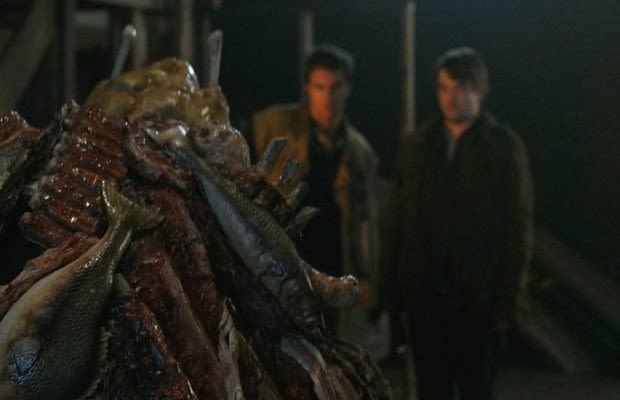 John Dies at the End (2012)
Director: Don Coscarelli
Stars: Chase Williamson, Rob Mayes, Paul Giamatti, Clancy Brown, Glynn Turman, Doug Jones, Daniel Roebuck, Fabianne Therese, Jonny Weston, Allison Weissman
John Dies at the End, genre favorite Don Coscarelli's (Phantasm, Bubba Ho-Tep) adaptation of David Wong's bug-nuts 2007 novel of the same name, immediately draws its line in the invisible sand: You're either onboard for the goofy insanity or you're not. Fortunately, we're all for uncontrollable lunacy in film, not to mention we're also high on Wong's source material. Coscarelli, who's no stranger to B-movie ridiculousness, is the perfect director to tackle such a wacky book, and his take on John Dies At The End, while not a flawless victory, is ludicrous fun.
The plot revolves around a mysterious new drug called "Soy Sauce," which, as even-keeled Dave (Chase Williamson) and his fun-loving buddy John (Rob Mayes) learn the hard way, makes its users susceptible to harmful oddities from another dimension, including a beast made of frozen meats, a mustache bat, and penis doorknob (don't ask).
Never once played for anything other than laughs, John Dies At The Endrevels in its absurdities, and, crucially, Coscarelli and his team have managed to execute some rather convincing special effects on an indie budget; Wong's novel reads as something that's damn near un-filmable, but Coscarelli defies that notion—the aforementioned meat monster looks especially wicked. Holding the film back slightly, though, is the performance from leading man Williamson, who's on screen a good 90-percent of the time and oversells his facial reactions a bit much. Yet, being that he's in one of the craziest flicks you'll likely to see all year, his problematic acting somehow makes sense in John's context.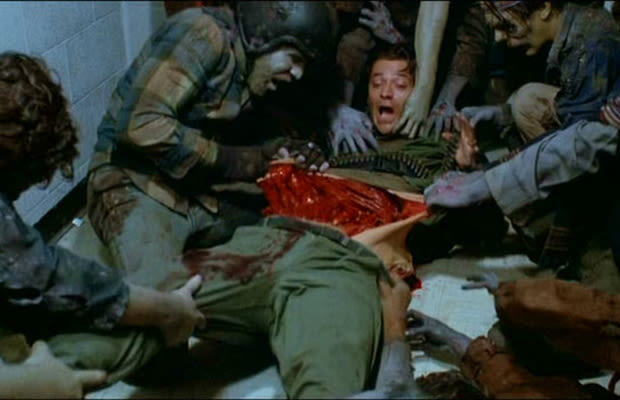 Day of the Dead (1985)
Director: George A. Romero
Stars: Lori Cardille, Joseph Pilato, Terry Alexander, Jarlath Conroy, Anthony Dileo Jr., Richard Liberty, Sherman Howard, Gary Howard Klar, Ralph Marrero
Fact: Anyone who makes a zombie movie, or even a TV show like The Walking Dead, nowadays owes a massive debt to Mr. George A. Romero, and most, if not all, of the filmmakers will gladly admit to that. The grandaddy of the undead motion picture, the now-72-year-old genre icon first achieved immortality in 1968, when his no-budget (i.e., a reported $114,000) feature film debut Night of the Living Dead first premiered and quickly changed the game. Then, in 1978, Romero somehow bested Nightwith the epic Dawn of the Dead, which includes makeup effects by Tom Savini that have yet to be outdone.
Due to all of the rightful love sent toward Night andDawn, though, the third installment in Romero's originalDead trilogy, Day of the Dead (1985), is quite often overlooked, or, even worse, frowned upon by critics. One frequent complaint is that the script, about nihilistic Army men and idealistic scientists living in an underground bunker to avoid becoming zombie food, is too preachy, spending too much time on back-and-forth monologues. Others attack the actors' unevenness in performance quality.
But here's the thing: The people who make voice those qualms are buffoons. Or, more delicately put, they need to revisit Day of the Dead and see for themselves why, in some respects, it's Romero's greatest zombie movie. Granted, Night and Dawn have better scripts, and even better acting, but Day by far has the best makeup work of them all. As seen in the image above, Savini, Greg Nicotero (who now produces The Walking Dead, as well as handle the AMC hit's makeup effects), and their team went all out when it came to Day's gore; the film's climax, in which the zombies gain access into the bunker and get to finger-ripping, eye-gouging work, is a thing of visceral, and viscera-packed, beauty.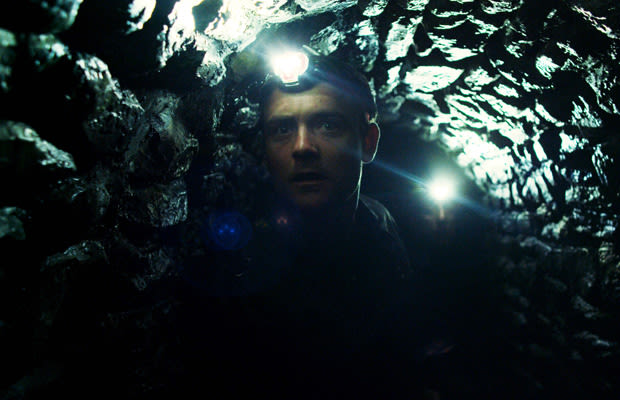 Kill List (2012)
Director: Ben Wheatley
Stars: Neil Maskell, MyAnna Buring, Michael Smiley, Emma Fryer, Harry Simpson, Ben Crompton, Struan Rodger
2012's most disturbing genre movie is also one of most lingering mind-fucks to come around in years. With the scarring Kill List, English filmmaker Ben Wheatleyestablishes himself as a fearless storyteller, keeping the mood pitch-black while concealing several jarring twists and maintaining a firm ambiguity that, by the film's end, will leave you bewildered.
Most importantly, though, Kill List will burrow into your nightmares, which is fitting, since the movie's shocking imagery and brutal ideas come directly from Wheatley's own scary dreams. At its core, Kill List is about an out-of-work, married military vet and former hit-man (Neil Maskell) who reconnects with an old partner-in-crime (Michael Smiley) to off a few unlucky folks for a mysterious new client. And that's all we can say here.
Though Wheatley himself has been open to discuss the film's crazier elements in the press, like he did with us, we're suggesting that you wait and see Kill List for yourselves before probing its deep, dark enigmas. But just know that you're not likely to see a more psychologically damaging horror flick any time soon.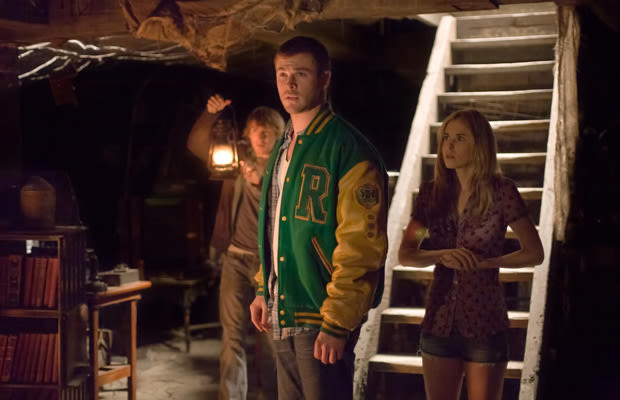 The Cabin in the Woods (2012)
Director: Drew Goddard
Stars: Kristen Connolly, Chris Hemsworth, Fran Kranz, Anna Hutchison, Jesse Williams, Richard Jenkins, Bradley Whitford, Amy Acker, Brian White, Jodelle Ferland
Give it up for 2012's most difficult-to-market movie, a meta-horror-comedy so ambitiously self-aware that its distributors had no choice but to sell it as a generic slasher movie. Written by Joss "Mr. Avengers" Whedon and first-time director Drew Goddard, The Cabin in the Woods inevitably suffered a quick demise at the box office, surely on its way to cult infamy and home video glory. Is that fate frustrating for all of us who quote-unquote "got" it? No question, but we're also just happy that it exists.
Deconstructing practically every overused horror movie trope in the book, The Cabin in the Woods winks at savvy genre fans in every scene, all while delivering several genuine shocks and a plethora of intelligently comedic moments. And then comes the see-it-to-believe-it final act, a fan-pleasing climax that's both totally batshit and amazingly generous. Even if general audiences didn't pay attention, we passionate horror lovers salute you, sirs Whedon and Goddard.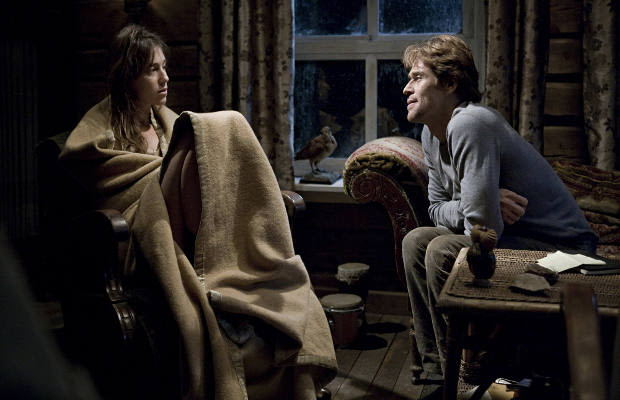 Antichrist (2009)
Director: Lars von Trier
Stars: Willem Dafoe, Charlotte Gainsbourg, Storm Acheche Sahlstrøm
Say you're feeling miserable, right, and one of your buddies is always smiling and lighting with joy-you're looking to bring him down a peg, eh? Invite him over, flip open your laptop and consult Netflix for some Antichrist, yet another mega-downer from Danish polarizer Lars von Trier. The heartwarming tale of a married couple's descent into madness and graphic mutilation in the wake of their infant son's accidental death (which von Trier shows in slow motion, mind you), Antichrist is liable to make a Glee reject want to lock his or herself indoors for an extended period of time. At least they'll have done so after watching a beautifully shot and commendably fearless work of mean-spirited art.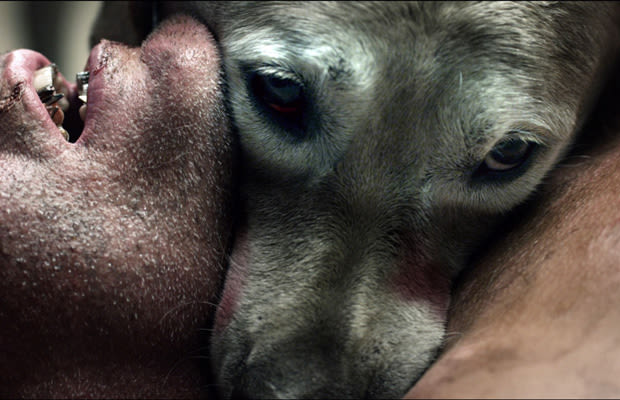 The ABCs of Death (2013)
Director: Kaare Andrews, Angela Bettis, Ernesto Diaz Espinosa, Jason Eisener, Bruno Forzani, Héléne Cattet, Adrián García Bogliano, Xavier Gens, Lee Hardcastle, Jorge Michel Grau, Noboru Iguchi, Thomas Malling, Anders Morgenthaler, Yoshihiro Nishimura, Banjong Pisathanakun, Simon Rumley, Marcel Sarmiento, Jon Schnepp, Srdjan Spasojevic, Timo Tjahjanto, Andrew Traucki, Nacho Vigalando, Jake West, Ti West, Ben Wheatley, Adam Wingard, Yudai Yamaguchi
Prior to the second, and final, public screening of The ABC's of Death, which took place Tuesday night, the word around the festival was that the high ambitious and outright insane anthology feature was a worthwhile disaster. And it was easy to accept that claim: Comprised of 26 directors each presenting a different means of life termination based on letters from the alphabet, it's one of those concepts that sounds amazing in theory but has a high potential of turning into a clusterfuck in execution. But it comes with fervent, pleasant enthusiasm to report thatThe ABC's of Death was one of Fantastic Fest's greatest surprises. In fact, it's an absolute blast.
Granted, several segments are complete wastes of time, namely The Innkeepers filmmaker Ti West's disappointingly lazy "M is for Miscarriage" and Angela Bettis' "E is for Exterminate." The combined weakness of the film's lesser offerings is easily dismissible, however, when one takes into account the awesomeness of The ABC's of Death's high-points, from Deadgirl director Marcel Sarmiento's exceptional "D is for Dogfight," Ben Wheatley's (Kill List) intense first-person exercise "U is for Unearthed," and Jason Eisener's (Hobo with a Shotgun) demented and uncomfortably hilarious "Y is for Youngbuck."
Don't believe the negative hype that's been circulating around the film in recent weeks—Though it's flawed, The ABC's of Death is, altogether, a giddily sick, nonstop shot of sadistic perversity to one's system.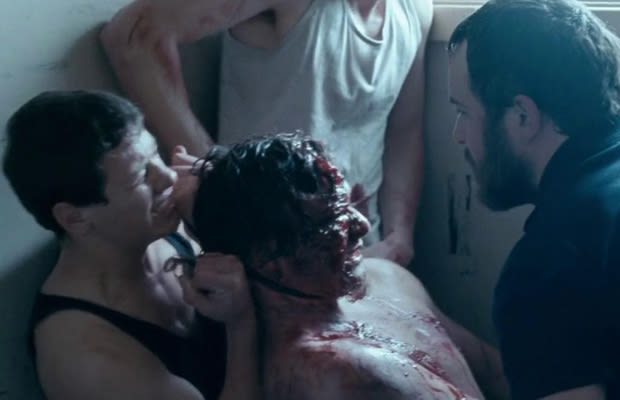 The Snowtown Murders (2011)
Director: Justin Kurzel
Stars: Daniel Henshall, Lucas Pittaway, Louise Harris
Looking for a downer of the most visceral kind? Try Australian filmmaker Justin Kurzel's phenomenally bleak The Snowtown Murders, the "based on a true story" serial killer knockout about Aussie's most notorious homicidal maniac, John Bunting (a masterful Daniel Henshall). From 1992 through 1999, using his disarming charm and manipulative personality, Bunting infiltrated a practically destitute community and amassed a growing legion of followers to help him slay those he deemed as wrongdoers.
Cleverly, Kurzel and screenwriter Shaun Grant enter the hellish events through the eyes of a sympathetic teenager, Jamie (Lucas Pittaway); fatherless and lonely, Jamie yearns for a paternal connection, which, unfortunately, he finds in Bunting. How Jamie's life devolves into misery and bloodshed is what gives the unflinching Snowtown Murders the ability to have such a vice-like hold on your nerves, right down to the film's intensely grim final shot.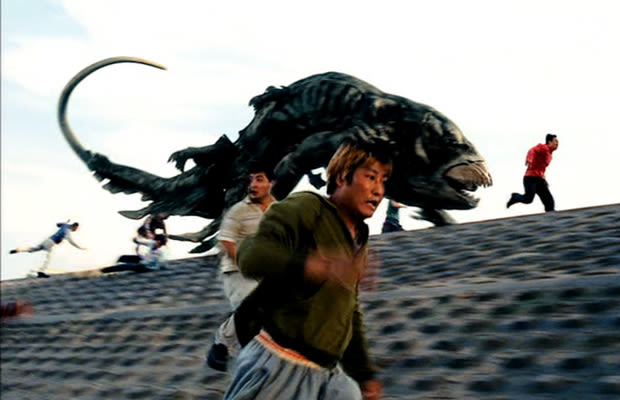 The Host (2006)
Director: Joon-ho Bong
Stars: Kang-ho Song, Hie-bong Byeon, Hae-il Park
The best creature feature since Jaws hails from South Korea. In the terrifying opening, a beast rises from the polluted Han River in Seoul, snatches a young girl, and takes her to its lair under Wonhyo Bridge. The rest of the film is concerned with the rescue of the girl, as her family gathers weapons to defeat the fishy abomination.
Balancing jokes, scares, and more than a few jabs at the influence of the American government on Korea, The Host is a satisfying, throwback horror flick.
This couple taking a selfie almost got struck by lightning!
If you like online dating, this will make you angry.
Have you seen the Top 25 Comedies on Netflix?
 Did you see these people at Comic-Con 2014?